Christmas is in the air!  I visited my local craft store the other day and was blown away by all the decorations!  It makes it very easy to get inspired to create your own holiday decorations and gifts!  A while back, I received the new Dremel® Micro™ 8050.  This rotary tool is perfect for crafters, hobbyists, and DIYers.  It allows you to cut, carve, engrave, sand, grind, sharpen, clean and polish.  The tool comes with a number of attachments for completing these projects, and it is also fully compatible with all other Dremel rotary tools accessories.  And it's just $89, making it a great buy on a Christmas gift for your favorite DIYer!
When I got my new Dremel, I immediately thought of all the different ways it could be used for home decor projects.  I got my husband involved, as he is the fixer and the tool guy around here.  I told him that I wanted to make some kind of sign or wall art for Christmas.  After a lot of back and forth, we came up with, what I think is, a great collaboration!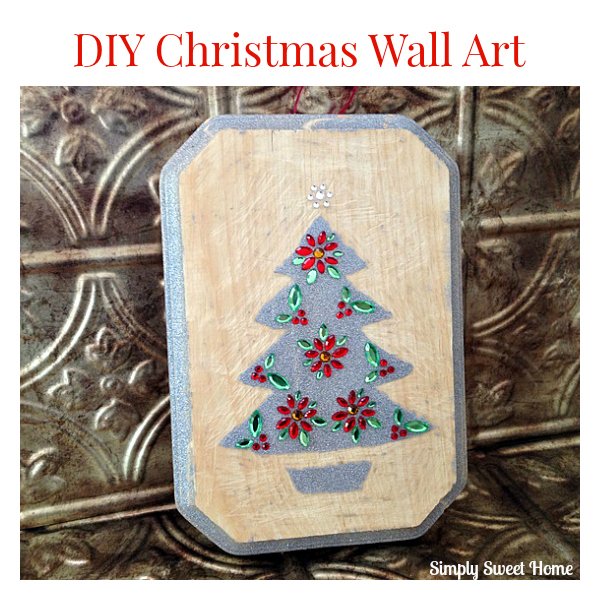 This Christmas craft is a very affordable project.  As you can see in my picture below, I bought several products that I didn't use in the final product, so in all, the materials actually used in the project add up to around $15 (which includes the paint I can use again later).

What You Need:
-Wooden Plaque
-Spray Paint
-Christmas Tree Stencil
-Gemstones, Scrapbooking Embellishments or other add ons
-Picture hangers & ribbon (optional)
-tape or other temporary adhesive
-scissors
-Scotch tape
-Dremel Micro + Sanding Attachment


What to Do:
First shake up your spay paint and give your wooden plaque a good coat, and allow to dry.  (Be sure to do this outside, or at least in a large well ventilated area.)
Next you will need a stencil of the shape you want to have on your art.  In our case we are doing a Christmas tree, but you could choose a heart, a bird, or basically anything you'd like.  Stencils can be purchased, or you can make your own.  I found a free printable stencil of a Christmas tree over at All-About-Stencils.com.  After you've downloaded the stencil, resize it as needed; then print.  (For mine, I simply hit print without resizing, and my printer allowed me to select a print size; for my purposes I selected the 5×7 print.)
After you have your stencil printed it out, cut it out carefully with your scissors.
 Now place your stencil on the wood.   To hold it in place, take two or three pieces of rolled Scotch tape,place it on the stencil and affix to the wood.
Now use your Dremel Micro and sanding attachment to sand away all the a paint that is not covered by the stencil.  Be careful when you get to the areas close to the stencil, to make sure you stain in line with the design.  This is a great time to use the light on the Dremel as it will help with your precision.
(Note: You can also choose to sand away the paint on the edges (or cover the edges so they aren't painted in the first place), but we personally liked the paint on the edges.  I think it does a great job of framing it.)
 After you've done your sanding, you already have a pretty nice piece of art work in my opinion.  If you like simplicity and minimalist decor, then by all means, stop here.
But if you're looking for something a little more ornate, or you're doing a project with the kids, move on to the next step.
To decorate your Simple Wall Art, you can use scrapbook embellishments or basically anything else that will stick to the wood.  For my project, I purchased GEMSTONES at Hobby Lobby.  These are usually $2 or $3 a pack, depending on which ones you choose.  The poinsettia & holly berry sets seen here were $2,  and I used one package and another half package on this project.  And they are self-adhesive, so all you have to do is peel them off their card and then press down on the wood where you want them.  (Hint: The great thing about having to press is that it allows you to place your Gemstones and move them around as needed before pressing them on to their permanent spot, so you don't have to worry about accidentally putting something in the wrong place and then having to rip them up or anything like that.)
After your finished decorating, you can lean this up on a nice plate holder and be done, or you can add a picture hanger.  I didn't have any "saw hangers" so I used one of the screws above.  Then after adding your hanger, consider adding a little ribbon.  Cut off 7 to 8 inches of ribbon and then just tie in a knot.
Check out the Dremel® Micro™ 8050 to get started making your own DIY projects, and or get it as a gift for the DIY guru in your life.

I was selected for this opportunity as a member of Clever Girls Collective and the content and opinions expressed here are all my own.