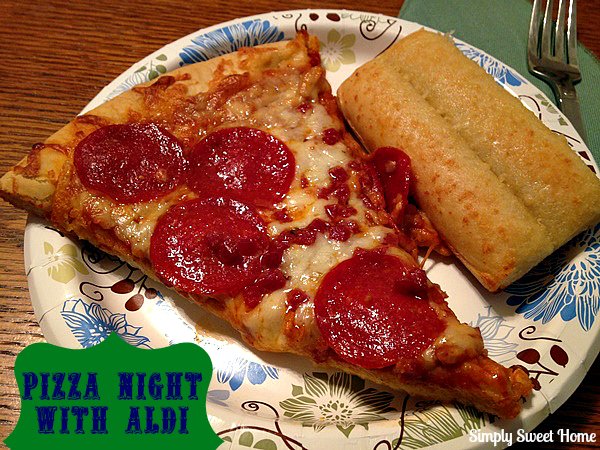 I try my best to plan out our meals for the week, but life can often throw your curve balls.  If I have a migraine or other illness, I definitely need a dinner that is a quick fix.  Or if Noah's event schedule changes, we may find ourselves needing to make something quick or we may even find ourselves having a dinner for two.  In other cases, we may have last second company and need to make something quick for extra people.  Whatever the reason, I always try to have several easy dinner night options on hand.
In the past I've told you how much I love Aldi and all the great deals they have to offer on some of my favorite grocery items.  During my most recent trip, I picked up a deli pizza.  Aldi has a number of core range and special buy pizza's from their store brand Mama Cozi.
Their Core Range pizza flavors/toppings include:  Supreme, Sausage, 5 Cheese, Pepperoni, and Ultimate Meat.
And then they also have a number of special buy pizzas, which will be available at various times throughout fall season: Sausage & Pepperoni, Italian Meat, Four Meat, Philly Cheesesteak, Mega Meat, and Meat Trio.
The price of these range from $4.99 to $6.99, which is an amazing deal.
I decided to go with their Pepperoni Pizza.It just looked SO GOOD!  I love the fact that it is topped with pepperoni slices as well as small pepperoni chunks.  And just look at the size of this pizza: 16 inches!  It's definitely big enough to feed a family of three or four, and possibly more if you have small children.
And at the price point of $5.99 it is such an amazing deal.  I really can't think of another way to spend this amount and get a meal of this quality to feed the family.
To go with the pizza, I decided to buy a box of Italian Bread Sticks.  These were just $3.89, another great deal, and they even came with marinara sauce and garlic butter sauce.
I made the pizza and bread sticks last Sunday night.  I had already planned to have pizza, but it came in extra handy, as we had a few things come up and had to make a last minute dinner.  Our nephew also came over on this day, and so it was great that we had something quick and easy to make for all of us.
If you're looking for some convenient dinner options that taste great, you should definitely check out Aldi's deli pizzas. And if you're craving any more deli freshness, they have a great assortment of deli cookies and cakes that are just fabulous for dessert!