This fall I've been sharing a number of cleaning and tools and products.  Today we can continue the series with a roundup of must have fall cleaning tools from Mr. Clean, Black & Decker, Dawn, and Evercare. And to go along with the round-up, I have a giveaway package featuring all the products you see here!
With the fall season, comes the raking of fall leaves and other outdoor clean up. Black & Decker has a 24 inch indoor/outdoor broom that is perfect for cleaning out the garage, sweeping your sidewalk, or sweeping any area of your home.  The broom features a strong durable handle with a soft grip and Clic 'N Loc™ ratchet system keeps handle from loosening.
Black & Decker also offers their All Around Brush.  This item is great just about any tough job you can think of.  You can clean everything from tubs and floors to outdoor furniture and decks.  We even used the brush on our grill!
Fall festivities mean extra cooking and dishes to wash.  Dawn makes the job a lot easier with their Fillable Kitchen Brush and Super Scraper.  The brush dispenses the liquid with a touch of the button, and it dispenses a little at a time, so there's no waste.  Together the brush and scraper do a fantastic job of removing stuck-on food and getting your dishes sparkling clean.
With all the laundry and other house work I have to do, there isn't always time to hand wash delicate items, so the only choice I have is to place them in the washing machine on handwash cycle, along with sweater and other things I want washed delicately.  These evercare bags come in handy.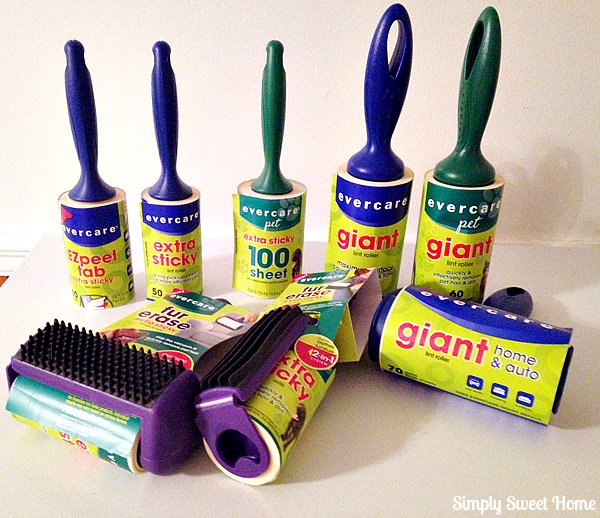 Do you have pets? Then you know you can never have enough Evercare sticky rollers!  I have these in every size available, including one with a handle that you can use for rolling your floor and hard to reach areas.  Otherwise they are great for picking up fur off furniture, your clothes, the cars, the floor, and yes, even your pets.
I also got a couple of sticky rollers with fur erase, which is perfect for help you get embedded fur.
From Mr. Clean, we have 3 products to help clean floors, Magic Eraser Super Twist Mop
.  It features a Magic Eraser on the end to get rid of tough spots and floor scuffs, and it twists for easy wringing without you having to get cleaner on your hands.  The mop costs about $30 initially, and I think this is a good investment; it's good mop, and you can also get replacement heads for it, so you can use it for years to come.
And the mop is paired here with the Mr. Clean Step On It Dust Pan and Flat Back Bucket.  Both are great for fast, easy, and convenient cleaning.
Giveaway! One Simply Sweet Home reader will win all the products featured in today's post.
Enter below.


Disclosure:  I received product samples to facilitate this review.  The opinions are my own.