Disclosure: This post was written by me on behalf of Truvia  in partnership with One2OneNetwork. The opinions are my own.
I make it a point to use my blog every now and then to call attention to various charitable efforts and awareness efforts. A long while back, I told you about Truvia. It is a natural sweetener that is both calorie free and diabetic friendly, and today I'm going to tell you about how this company is partnering with the World Food Program in "Sharing a Sweet Future."  You can find stories and videos about the program here.
Truvia has a trifecta of values for making every day sweeter:
1. Delighting Experiences
2. Healthier Lifestyle
3. Positive Global Citizenship
They accomplish these three things by creating a good experiences with a great tasting a healthy product, but they also make efforts to be good stewards of the environment and help to improve communities.
Truvia specifically wanted to help a country in South America, as this is the continent where their products come from.  They chose Bolivia specifically for the following reasons:
-40% of the population can't afford adequate food for a healthy life
-68% of the population live in rural areas
-65% of rural households cannot afford the minimum daily caloric intake.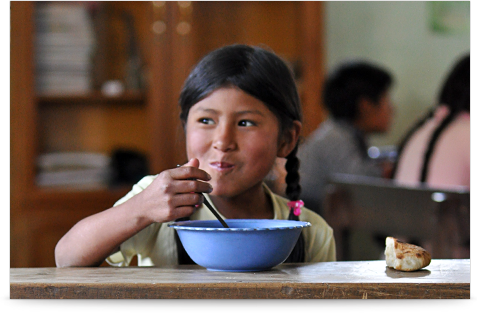 Over 3 Years, Truvia has put nearly $1 million in to Bolivia, and with these efforts they have:
1. Reduced hunger
2. Improved nutrition
3. Encouraged education
4. Decreased environmental impact
All 4 of these things have been accomplished as part of the World Food Program's Sustainable School Meals Program.  Through the distribution of oil for cooking, they have helped to enhance nutrition.  In 2012 alone, 43 tons of oil were distributed resulting in 35,000 students being fed.  With the ability to supply meals for students, this has also helped rural children to stay in school, where they might have otherwise had to stay home.
The program has also helped to provide clean cook stoves, which are safer to use and decrease health risks for mothers who are cooking the meals and their young children who are in the cooking areas.  And they've also helped to educate these mothers on safety and nutrition so that the program can be sustainable in the future.
How can you help? You can raise awareness for this program, by visiting the Sharing a Sweet Future webpage and sharing it with your friends and family on Twitter and Facebook.
Truvia also wants YOUR help in deciding where they should help out next.  Which organization should they partner with in 2015?
United Nations World Food Programme – The United Nations World Food Programme is the world's largest humanitarian agency fighting hunger worldwide.
Action for Healthy Kids – Action for Healthy Kids® (AFHK) fights childhood obesity, undernourishment and physical inactivity by helping schools become healthier places so kids can live healthier lives.
Feeding America – Feeding America is a nationwide network of more than 200 food banks and the nation's leading domestic hunger-relief charity.
Feed the Children – Founded in 1979, Feed the Children is one of the largest charities based in the U.S., with the mission of providing hope and resources for those without life's essentials.
Edible Schoolyard – The Edible Schoolyard is a nationally renowned pioneer in the fields of garden-based learning and culinary education.
Vote here!  Personally I am voting for Feeding America, as I know there are a lot of American children who could use the help.  Be sure to go over and vote for yourself, and feel free to comment here about this program, or about the program that you voted for in the poll!