This shop has been compensated by Collective Bias, Inc. and its advertiser. All opinions are mine alone. #AllDayLook #CollectiveBias
With all the hype and extra shopping that goes along with back to school, a lady can't help but want to treat herself to something new too!  So last week, I treated myself to some beauty products from Neutrogena.  Neutrogena and Hayden Pantierre have teamed up to bring us tips and tutorials on how to achieve a beautiful "all day look."  See Hayden talk about her "Day Off Look" in this video:
And if you need a little more beauty inspiration for you #AllDayLook, Target and Neutrogena have teamed up to bring a Target Beauty Concierge event at select Target stores around the country this month! Event begins August 24th.  Limited quantities available. Check with your local Target store for Beauty Concierge day and times.
And also, check out your Target Cartwheel App for a 20% off offer on all Neutrogena cosmetics!
After checking out the Neutrogena Nashville, I got inspired to try some of the featured products.  I've used Neutrogena's skincare products and hair products before, but I've never tried their makeup, so I decided to have a Beauty Adventure!
 I picked up the Healthy Skin Liquid Makeup Broad Spectrum SPF 20 in Classic Ivory, Shine Control Powder, and the Nourishing Eyeliner in Spiced Chocolate, and I'm very happy with these purchases.
In the above photo, I'm wearing just the Healthy Skin Liquid Makeup.  Of all types of makeup, foundations are definitely something I am most particular about.  I've tried many, but and I really LOVE this one.  Here's why:
It only takes a small amount of product to cover the face.  It smooths on very easily, and the shade really blended well on my skin.  I also love the texture of the makeup.  It has a very light and sheer feel to it.  It doesn't make you feel greasy or sticky, and it doesn't feel like you are wearing a mask.  It just has a very natural feel and look to it.  And it didn't make my skin look shiny or dry it out either!
The product is also odorless. Other makeups I've tried have had fragrances or even a medicine scent to them, and I was happy this did not have that.  The makeup also help up well throughout the day.  I am definitely excited that I tried this out, and I definitely plan to buy it again in the future.
And here is my "full makeup picture."  I use powder for two reasons:  to "help" my make hold up longer and to prevent my skin from being shiny (especially for hot, humid days.)  I think by using the Netrogena Healthy Skin Liquid Makeup, I may find that I need the powder less, but I think it still helps to have the Shine Control Powder.
This powder goes on sheer, and it is a really a good finishing powder.  It is definitely a good product to have on hand especially if you have oily skin or live in a place where you are prone to get a shiny face throughout the day.
I was also pleased with the Nourishing Eyeliner.  I purchased the Spiced Chocolate shade, because I have brown hair, and my eye shadow colors are predominantly silver, gold, and various shades of ivory and tan, so I think I think the chocolate goes well with those.  The eyeliner goes on very easily, and it also held up pretty well throughout the day. No raccoon eyes here!
 I also picked up Neautrogena Triple Moisture Shampoo & Conditioner.  I've tried some of Neutrogena's hair products in the past but this is my first time to try this line.   This line is especially good to moisturize dry and processed hair, and it is good for removing impurities.  And since I'm in great need of a haircut, and it often looks dried out, I thought this hair care line would be great for me.
I used the shampoo and the conditioner and then I took some photos of my hair dried out straight and not styled and then I took a picture of my hair curled.
I have naturally curly hair that is nearly impossible to straighten (and have it stay straight)  I took the above picture immediately after drying.  The shampoo made my hair feel clean, softer, and healthy.  And I was very happy that the conditioner helped to remove my tangles without leaving my hair feeling oily or weighted down.
And the products seem to help prevent frizzies as well! Yay!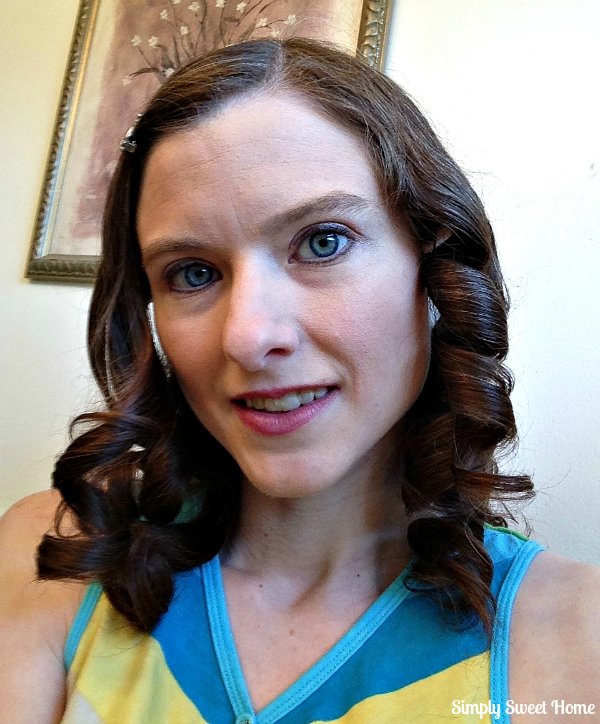 Then I styled my hair in to some curls.  Even though my hair is naturally curly, my mom used to roll my hair for church and special events, so sometimes I still like to have the "homemade curls."  The above picture was taken after shampooing and conditioning.  I used the blow dryer and rollers, but I used no other chemicals or styling products.  My curls came out looking carefully sculpted, and happily there is no frizz!
For more beauty inspiration, check out all of the great products from Neutrogena, and don't forget to take a look at their All Day Beauty Looks and check out the Target Beauty Concierge Event!