This review and giveaway was made possible by Double Duty Divas and Febreze. I was compensated for my participation in this campaign, but all opinions are 100% mine.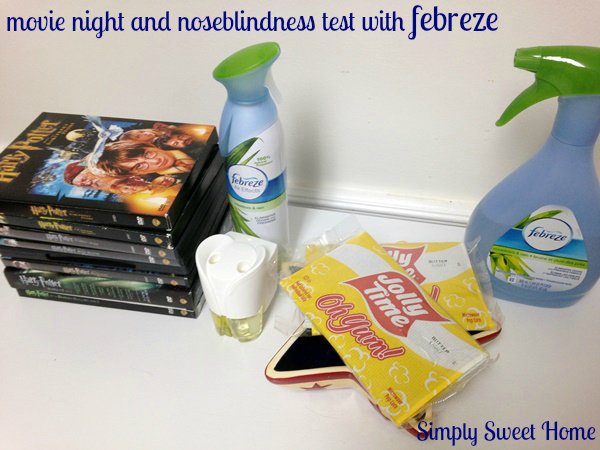 Do you have noseblindness?  When we stay in our homes every day, sometimes we get used to the smells and may not always notice when things become unpleasant.  We only become aware of the odors if someone tells us about them OR if we leave our home for a few hours and days. We recently conducted our own Febreze Noseblindness Test, and today I'm happy to share our results, along with more information and giveaway!
The types of odors which you may have become noseblind too include pet odors, food/cooking odors, smoking, everyday odors from work or sports, and general household odors (carpet, allergens, mold and mildew, etc)
In our home the odors I worry the most about becoming noseblind to are the general living and household odors.  I live with a man and a young man, so the "work & play" odors can definitely be an issue!  We also live in an older house that doesn't have the best ventilation, so it can be stuffy; plus with older homes you have to guard against mold and mildew and just the general "old house" smells.
And then we also have 2 cats.  And although they have their own room, and I'm happy to report that people are always telling me that they'd never know I had cats when they walk in, I still have to work to keep their room clean.  And I try to use products to keep the kitty odors neutralized.
Febreze has a great assortment of products to help neutralize odors and give your home a nice, pleasant smell.  My favorite products include the Febreze NOTICEables plug ins, Febreze Air Effects Spray, Fabric Refresher Spray, and candles.
I always like to have a scented oil plug in going.  It really fills a room up with scent and is great for everyday use.  And the fabric refresher sprays and Air Effects Sprays are perfect for filling your home with instant freshness after a day of cleaning and/or  just before company comes over.
The other day we had company over, and we conducted our own Febreze "noseblind" test.  After a brief survey, I learned that my house can sometimes be a bit stuffy/stale, which again, I attribute to having an older house.  Upon popping a little popcorn for movie night, the scent of buttered popcorn then filled the house.  After a while we and our guests became a little nosebliind to the other popcornn. But this smell was later masked further by the Febreze products.
 Also, I used my Febreze products over the next coming days, and as company arrived they instantly mentioned the smell of the Febreze NOTICEables.
For more information on Febreze Products and Noseblindness, check out the Febreze Noseblind Site.
You can also get product updates, coupons, and more, by following Febreze on Twitter and Febreze on Facebook.
Win it! One Simply Sweet Home reader will win a Febreze Noseblind Prize Pack, which in will include all the products featured on this post:
Noseblind Kit (2 envelopes)
1 Febreze Air Effects
 1 Febreze Fabric Refresher
1 Febreze Noticeables with refill
1 Febreze Candle
AND a $60 AMEX Gift Card!
To enter, please use the rafflecopter form below.