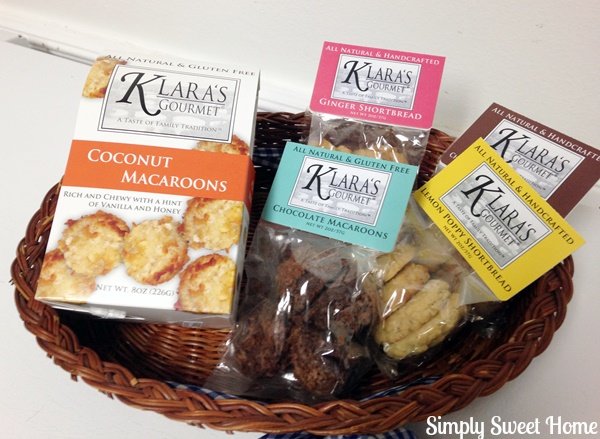 Did you know May 31 is National Macaroon Day?  I've been celebrating a little early with some delicious macaroons and other gourmet cookies from Klara's Gourmet.  Recently chosen as a Fancy Food sofi Finalist for "Outstanding Cookie," Klara's Gourmet was founded in 2006 by Klara Sotonova, an emigrant from the Czech Republic.  Klara came to the U.S. in hopes of making her dreams of owning a business come true.
The cookies are all natural and hand crafted, and the recipes come from generations of Klara's family.  The cookies on the menu include: Coconut Macaroon, Vanilla Walnut Crescents, Maple Cranberry Shortbread, Lemon Poppy Seed Shortbread, Chocolate Coconut Macaroons, Chocolate Sea Salt Shortbread, Linzer Cookies, and Double Chocolate Shortbreads.
I tried an assortment of cookies from Klara's Gourmet.  They were all delicious!  I really enjoyed the Chocolate Sea Salt Shortbread and the Macaroons, but my favorite cookie of all was the Chocolate Macaroon.  The macaroons tasted just as good as homemade, and it was so hard not to eat the whole package in one setting!
To try the macaroons for yourself, visit Klara's Goumet online.  To fit you budget and needs, they have different size and quantity options for you to order, and they also have gift baskets available.