Have you seen  PEOPLE Magazine's Sexiest Man Alive issue? It's currently on store shelves.  I just purchased the magazine and have been flipping through to see all the eye candy it has to offer.  And the person named the Sexiest Man Alive for this year is Channing Tatum!
 I think this is a good pick.  I've seen a few of his movies, my favorite being The Eagle, and I think he's a very a good actor and very good looking.  He was also born and lived for a little while in Cullman, Alabama, which is only about half an hour away from where I grew up, and I, for one, think that is very cool!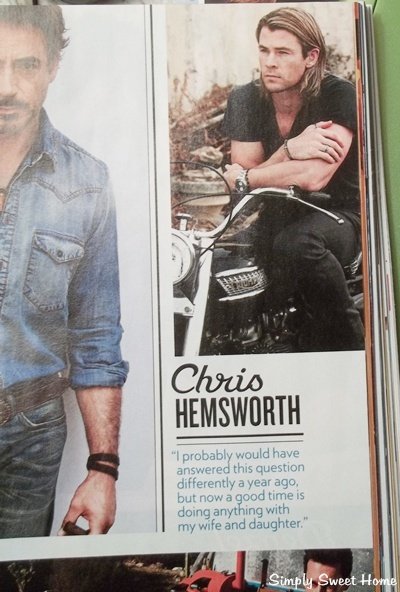 I was also very pleased to find that Chris Hemsworth is featured in the issue!  If you read my previous post on PEOPLE Magazine's Sexiest Man Alive, you already know that I am a big fan of him and his movies.
And as a country fan, I'm always happy to see country artists featured.  I've loved Blake Shelton's music for years, and it's great to see him have so much success.
And I was also please to see that country artist Luke Bryan is featured in the issue!  Since I'm not much a radio listener, I only just became familiar with him recently, but I think he is a great artist, and not to mention very handsome!
So what else is in PEOPLE Magazine's Sexiest Man Alive issue?  They have a spread called "Sexy at Every Age."   They have Men of the Year, Magic Mikes, Chill Guys, Shirtless Guys, and more!
There's also the general PEOPLE magazine content that you often see like movie articles, as well as fashion and beauty.  And this week they have a little spread called, "Growing Up Twilight" featuring Kristen Stewart, Robert Pattinson, and Taylor Lautner.
Disclosure:
This shop is part of a social shopper marketing insight campaign with Pollinate Media Group™, but all my opinions are my own http://cmp.ly/3/KqtZiE.