I love the fall season!  Other than perhaps Christmas, it's my favorite time of year.  And the blogosphere (and Pinterest) have showed me so many different possibilities for fall decor, which makes the season even more fun!
Today I'm sharing a tutorial for a very simple fall craft.  This could be used for all art, or leaned up on a plate holder and placed on your mantel or Thanksgiving buffet,  such as a I show here.  And as with most of my projects, it's very budget friendly!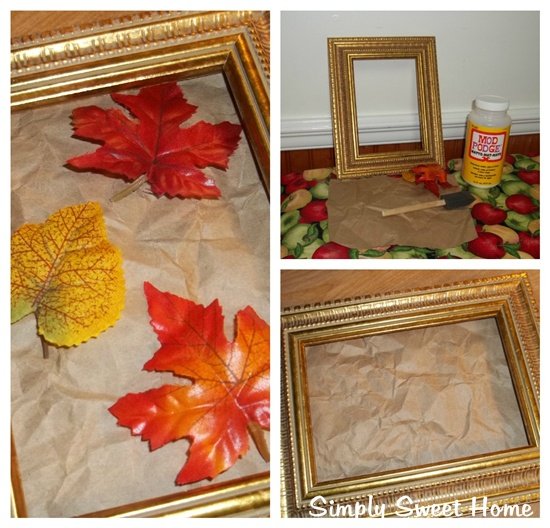 What You Need:
Picture frame (without glass front or backing)
Scrapbook Paper or a Paper Sack
Faux Leaves
Mod Podge
Paint Brush
Hot Glue (optional)
Directions:
Cut out your paper so that it's just a little larger than the center of your picture frame. (I used a paper sack because I like the color and texture, but any sort of colored paper will work.) Next crumple the paper.  (This is optional, but again, it gives it a great textured look.)  Next attach your paper to the back of frame using your Mod Podge or a hot glue gun.
Next lay out your leaves on the paper to find your desired layout.  (I used 3 leaves with this 5×7 frame.)  Then glue the leaves down, using Mod Podge.  (If the leaves don't want to lay down, try using the eraser end of a pencil to press them down.)  Let dry. Then brush a layer of mod podge over the entire work to give it a nice, finished look.