As you know, I love highlighting great gift retailers.  Today I'm taking a look at design-glassware.com. If you are looking for fine gifts for women, you will love their site.  They have fun and stylish gifts that are perfect for birthdays, Mother's Day, bridal showers, and bridesmaid gifts.
Design Glassware by Mont Bleu is known for their genunie glass nail files and crystal nail files.  These are made of the highest quality materials and are manufactured in the Czech Republic.  They also offer personalized nail files.  You can order your glass nail file decorated in Swarovski Crystals with either your name or your initials.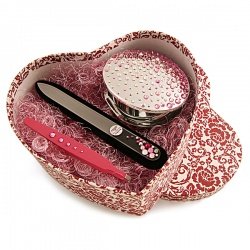 And you can also buy these individually or in a gift set.  Their gift sets include the glass nail file, along with tweezers, and a compact mirror, and they are placed in a very cute gift box.
You can also buy the tweezers compact mirrors seperately, along with an an assortment of other beauty products and tools.  These includeglass foot files, manicure sets, hair brushes, and cosmetic brushes.
I personally loved their selection of compact mirrors.  They come in metal or high quality plastic, and they are decorated with Swarovski crystals, and if you select the metal, you can choose from black, matte and shiny metal finishes.  They are very fun and stylish!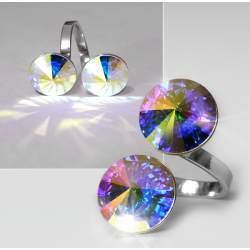 The site also carries a fun line of costume jewelry that includes beautiful crystal earrings, wristband bracelets, pendants, rings, and hair pins.  These are so stunning and sparkly, and the come in an array great colors .  One of my favorite pieces is the ring pictured above in Aurora Boreale.
And I found a number of accessories for your purse and the office.  These include some cute business card holders and ink pens, which are both decorated with Swarovski elements.  And they have some cute bag hangers.  In case you aren't familiar with these, they are a cute accessories that allows you to hang your bag on the desk at your office or on the table at restaurant.  They are very cute, trendy, and definitely a convenient accessory for women of all ages.  And finally you'll find key chains and mobile charms, which are also decorated with Swarovski elements.
I believe all of these would make really good gift items for your blog friends, teachers,  business associates, and business women, in general.  If you love beauty tools, jewelry, and personal accessories, go by and check out all the fine selections at Design Glassware by Mont Bleu.