Today we've got a fun guest post from Sheryl from Lady Behind the Curtain. She shares some amazing recipes and party ideas at her blog.  Go over check her out!  But first take a look at what she's sharing with you here today: Watermelon Poke Mini Cupcake Push Up Pops!
Hello Everyone I'm Sheryl from LADY BEHIND THE CURTAIN and I have the privilege of guest posting here today!
For those of you who are not familiar with my blog it is full of fun and tasty recipes along with some party ideas.
Today I am sharing a FUN SUMMER CREATION! When the watermelons start arriving in the stores you know summer is here! It's a GREAT feeling!
I hope you enjoy my WATERMELON POKE MINI CUPCAKE PUSH UP POPS and HAVE A WONDERFUL SUMMER! 

THANKS JERRI!
Do you have your summer picnic planned? Here is a fun dessert to take! Don't have push up pops? HERE is where to get some. If you don't want to order push up pops then put your cupcakes into a small 5 ounce cup or a small mason jar just remember to take off the cupcake liner so your guests can see the "seeds". Can't find Watermelon Jello? HERE is the Jello product locator. These cupcakes taste just like a Watermelon Jolly Rancher! I was surprised at how much flavor the jello gave to the cupcakes.
Watermelon Poke Mini Cupcake Push Up Pops Recipe

Ingredients
1 white cake mix (ingredients needed to make cake as directed on box)
gel food coloring – rose
1/2 cup mini chocolate chips
1 watermelon jello
1 butter frosting recipe
green sprinkles
Directions
Mix cake as directed on box. Add enough food coloring to get a watermelon color and mix. Fold in chocolate chips. Line mini muffin cups with 5 dozen cupcake liners. Fill 3/4 full. Bake at 350 degrees for 10 minutes. Place cupcakes on a cooling rack with wax paper under neath. While the cupcakes are cooling, add 1 cup boiling water to jello and stir until dissolved then add 1/2 cup cold water and stir until combined. Using a skewer poke holes into the cupcakes, drizzle about 1 teaspoon of jello mixture over each cupcake. Place in refrigerator for several hours until jello is set. When cupcakes are ready, load one cupcake into the push up pop container top with swirl frosting and a few green sprinkles, add another cupcake on top and repeat. Add topper. This makes 48 mini cupcakes.
Butter Frosting Recipe
Ingredients
3/4 cup butter, softened
2 pounds confectioners' sugar
1/3 cup milk
2 teaspoons vanilla
milk
gel food coloring – green
Directions
Beat butter until smooth. Gradually add 2 cups of the confectioners' sugar, beating well. Slowly beat in the 1/3 cup milk and vanilla. Beat in remaining confectioners' sugar. Beat in additional milk until frosting reaches spread or piping consistency. Divide frosting in half. Add green food coloring to both. One with a touch of green so that it has just a hint of color and the other with enough to make the color of a watermelon rind. To one side load the light green frosting into a large piping bag now add the dark green on top of the light green.
Candy Melt Watermelons
red
green
white
black
HERE is the template for the watermelons. Tape the template to a cookie sheet then tape wax paper over it.
Melt green candy melts and pour into a squirt bottle. Make the out line of the rind.
Melt white candy melts with 1 green candy melt, pour into a squirt bottle and make the next line for the lighter edge of the rind. (as you can tell perfection is NOT required)
Melt the red candy melts pour into a squirt bottle and fill in the watermelon.
Melt a small amount of black candy melts, pour into a squirt bottle and make the seeds.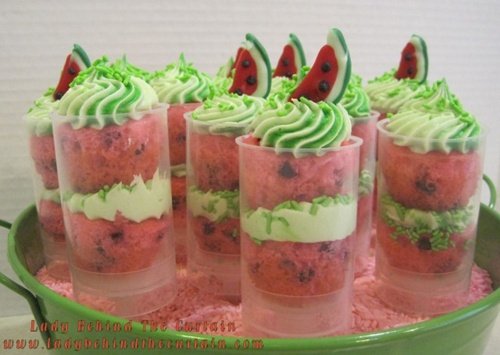 Thanks so much to Sheryl for guest posting for me today! Please go by and visit Lady Behind the Curtain.