Hey everyone! Thanks for stopping by today for Friday Favorites! And if it's your first time stopping by this week, welcome to my new site! Hope you like it!  Now that I'm on WordPress, I'll no long have GFC.  (Sigh.)  But I think if you were following through GFC before, my updates should still show up in your Google Reader.  Either way, if you're not yet following, please subscribe to be RSS feeds.
And I also invite you to subscribe via email. I have 2 email list options.  For Daily Email updates, you can sign up for my Feedburner list.  Or if you prefer a Weekly Email instead, you can sign up for my Feedblitz list.
And now for some super fun spring and Easter features!
10 Faith Based Crafts for Easter from AliLilly
Free Easter Printable from Craftily Ever After
Recycled Spring Wreath from Cheaper Crafty Mama
Crescent Roll Carrots from Living My Life on Purpose
My Pinterest Pick: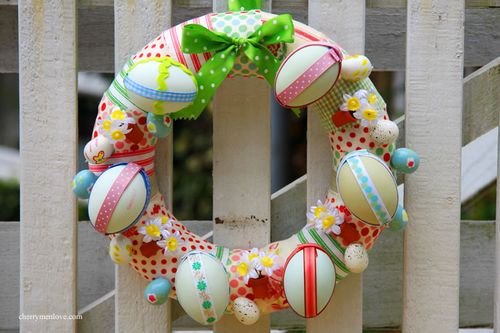 Easter Egg Wreath from Cherry Menlove
Thanks for stopping by this week! Link up your posts below!