The summer is going to be here before you know it, and you're already thinking about all of the backyard parties you're going to be hosting. There's the Father's Day BBQ, your daughter's graduation party, and of course, lighting off fireworks on the Fourth of July.
But as you're daydreaming about all the fun events to come, you look out the window into the backyard and see the less than impressive state that your garden is in. Whether your garden took a hard hit over the winter or your green thumb just hasn't been working with you lately, check out our tips to take your garden from blah to brilliant before the summer is here!
1. Give Your Garden Beds Some TLC
Though weeding your garden beds and laying down some fresh mulch might not be the most exciting of gardening chores, it makes a huge difference in the overall appearance of your space. Plus, getting some weeding done now will make maintaining your garden beds a whole lot easier when the summer comes around. No one likes sweating it out every day pulling weeds in the hot sun!
2. Plant a Fresh Row of Flowers
While weeding is a bit of a chore, planting some fresh flowers is a much more enjoyable gardening task! Hit up your local garden nursery and pick a variety of annuals to add a pop of color to your back, side, and front yard.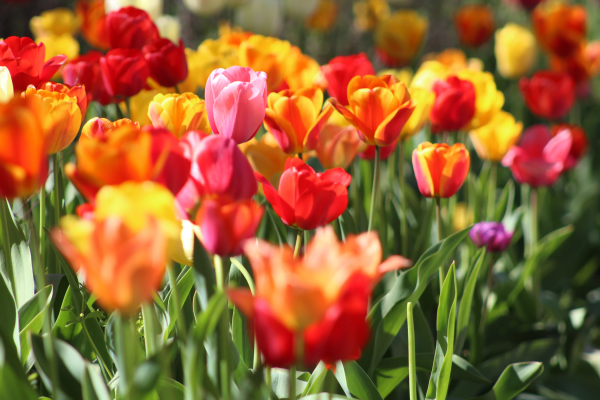 Photo by Krystina Rogers on Unsplash
Remember to choose flowers that are best suited for the conditions that you have in your yard. And if your planting flowers a bit later in the season, consider choosing some summer flowers that will bloom when the spring bulbs are done for the year!
3. Rid Your Garden of Annoying Pests
While bugs and creepy crawlies are just a natural part of the garden, they can be super frustrating when they eat away at all of your hard work! Rather than giving into those bugs that keep eating away at your tomato plants, consider trying an eco-friendly repellent instead! Skip the insecticides, and try a homemade roach or ant killer instead.
Having a garden that's entirely free of pests simply isn't possible, but deterring some from feasting on your vegetable garden is definitely possible, and will help make your garden look nice, too!
4. Establish a Breathtaking Entryway
You know what they say, first impressions are everything. By establishing a beautiful entryway to your garden, you're preparing your guests for just how marvelous your backyard space is! If your backyards entryway is just gravel or grass right now, consider installing some stepping stones and a wooden garden arbor to help naturally lead your guests to the backyard.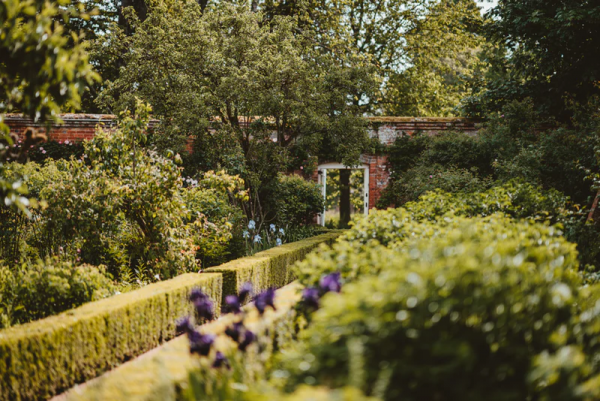 Photo by Annie Spratt on Unsplash
Additionally, add some solar pathway lights to illuminate the way back to the front of the house when the party is over. These solar lights won't add any additional cost to your power bill and they'll help make the path safer for those who might be prone to tripping around in the dark!
You could also use seasonal decorations like a garden flag.  Get residental flagpoles and show your patriotism with displaying your national flag, or celebrate the seasons and holidays of the year with fun, colorful flags for fall, Halloween, Christmas, Easter and more!
5. Create a Gathering Place for Family and Friends
Nothing makes a backyard feel more special (and brilliant) than a comfy, cozy space for family and friends to gather and laugh the night away. Consider investing in a pergola to add a shady place for your loved ones to hang out in when they need a break from that hot summer sun.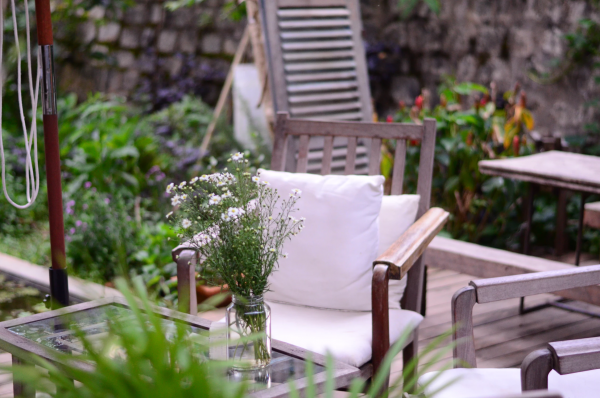 Photo by Tanny Do on Unsplash
Add in a set of outdoor couches and a fire pit for all those outdoor summer gatherings. Or, if you're more keen on outdoor dinners when the weather allows it, build your own outdoor table that will offer you plenty of space to enjoy the outdoors over a homecooked meal with the whole family!
6. Build a Treehouse For Your Kids
Nothing gets your kids outside quite like building them a place to hang out that's all theirs. Treehouses encourage your kids to explore their imagination and creativity while getting to enjoy the outdoors. There are a wide variety of treehouse plans available for free online, many of which don't even require a tree!
Get your kids involved in the process by having them help you hammer wood planks together or decorate the interior when it's all put together.
7. Add Some Vertical Visual Interest
Sometimes when we're planning our spring garden out, it's easy to forget about all of the vertical space we have available to ourselves! If you have space on your fence or the side of your house, you have space for another potential garden bed! Get creative and figure out the best way to utilize your space. You can grow climbing vines with the help of a trellis, or you can grow a vertical herb garden to provide your kitchen with fresh garden flavor all year round!
8. Welcome Some Feathered Friends to Your Space
There's nothing quite like the sounds of a songbird to make a space feel one with nature. Invite feathered friends to your backyard by adding a bird feeder (or two) and a bird bath.
Photo by Dan Wayman on Unsplash
Chat with your local pet store about what kind of seed is best for the birds in your area and set up the feeders in a space where you can see them from your window. Be patient, and sooner or later you'll see a whole flock of birds stopping by for a quick snack!
9. Go Eco-Friendly With a Rain Barrel
If you live in a part of the world that gets lots of rain, consider installing a rain catchement system. Rather than sending your rainwater down a storm drain, collect it and use it to water your plants and grass or wash your car.
Utilizing rain barrels will help reduce your water bill during the summer and allows you to water your plants with something other than city tap water. Additionally, if you're dealing with any erosion problems at your home due to rainwater runoff from your roof, collecting the water rather than letting it settle into the soil can work wonders on your yard's overall appearance.
10. Add Some Mood Lighting
Who says the outdoor party has to end once the sun goes down? Consider lining the perimeter of your yard with some solar string lights! Charging during the day and coming on at sundown, solar lights won't increase your home's energy bill and they will encourage your guests to linger at the party for just a bit longer.
Photo by Jon Tyson on Unsplash
Alternatively, decorate your garden with pathway lights to illuminate those dark walkways that could really use some more visibility.
How are you preparing your garden for the summer to come? What parties are you hosting? Let us know in the comments below!
Bio: Leigha Staffenhagen is the managing editor of Insteading.com, a homesteading and sustainability site focusing on everything from gardening and chickens to tiny homes and off-grid living.