Today you are in for a treat…literally!  With the winter season in full swing and Valentine's Day right around the corner, it is the perfect time to have a Hot Chocolate Party!  Hot Chocolate is a delicious winter time drink, and thus, it is the perfect menu item to put at the centerpiece of a winter gathering for kids or adults.  Today I'm going to show you some simple ideas and tips for putting together a fun and sweet hot chocolate party!
The first rule of thumb for any party is having enough food to go around.  For a hot chocolate party, you probably don't want to go with heavy appetizers like you might serve for your football parties.  And you also want to avoid those spicy and saucy favorites.  Instead you should stick to sweet items that compliment a hot chocolate drink.  Consider chocolate candies, little cakes, brownies, and cookies.
Of course, there's nothing wrong with throwing in a little something salty.  Try some mixed nuts, pretzels, or popcorn.  These are light foods that require no prep and are perfect to add savory flavor to a candy and treat party.  For my candy and treat bar, I used several items from the Chocolate Cravings Crate, available at Shari's Berries.
It's very easy to create a fun party table without a lot of effort.  Start with a table cloth to give yourself a nice base of bright coloring.  Here I actually lined this table with red foil and then added a white and red table runner.
As for table decor, the food itself serves as a lovely decoration if your present it in a nice way.  While I try to leave some parishables in their packaging, candies and cookies look fabulous when they are spread out on a serving tray.  And they also look fabulous in jars!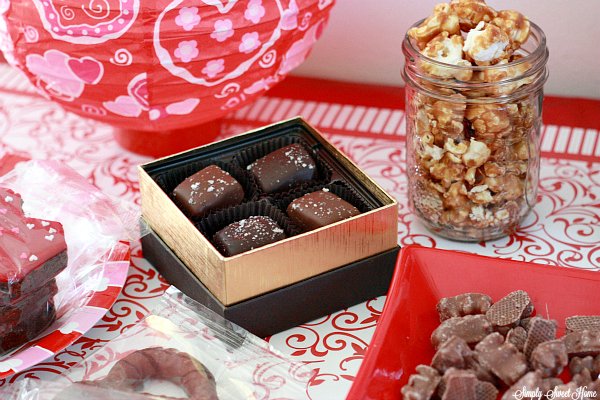 Other simple items you can use to decorate your table include tealights, paper lanterns, candles, and banners.
And in case your curious, the sweets and treats on my little party table include brownies, rice krispie treats, and hard candies, as well as delicious treats from Shari's Berries like Chocolate Covered Cashews, Chocolate Covered Marshmallow, White Chocolate Caramel Pretzels, Petite Fours, Caramel Corn, Dusted Chocolate Covered Peanut Butter Toffee Balls, Chocolate Covered Oreos, and more!
And of course, it's not a Hot Chocolate Party, without hot chocolate!  I recommend having 2 or 3 types of hot chocolate available for your guests.  One could be a basic, traditional hot chocolate, and then you can also have a specialty hot chocolate drink.
I also suggest setting up a hot chocolate bar.  This is where guests can pour up their own hot chocolate and add custom toppings like marshmallows, whipped cream, and sprinkles.
To add simplicity and interactivity to your party, you can even include hot chocolate mixes on your bar and let guests mix up and make their how hot chocolate using a provided picture of hot milk and either packages of store bought mix or a homemade hot chocolate mix.
As for a specialty hot chocolate, there are so many great ones out there.  This Nutella Hot Chocolate is delicious and super easy to make.  Another great option is this Vanilla Hot Chocolate.  It's the perfect hot sweet drink for those who are looking for something a bit on the lighter side.
[amd-zlrecipe-recipe:128]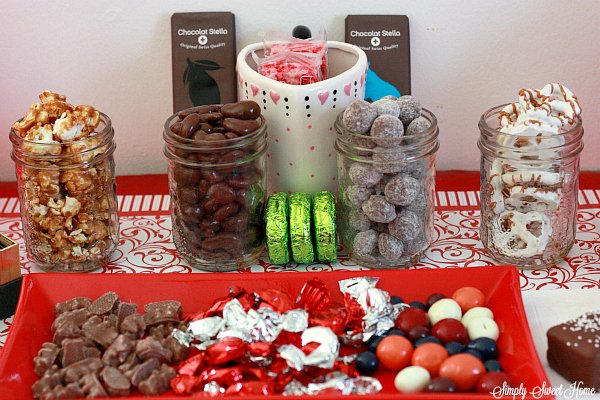 Looking for great ways to celebrate Valentine's Day? Looking for a great deal on a gift for your Valentine?  Check out these free Valentine's Day discount codes.
I'd love to hear your thoughts!  What are you ideas for a fun hot chocolate party?