Nothing makes a home feel more boring and drab than the same decor year after year. As the seasons change and styles come and go, your home or rooms may start to look dated or unappealing. If you're tired of looking at the same living space day in and day out, liven it up with new and exciting home decor pieces.
If a full remodel isn't in your budget, adding in fun and quirky pieces can change the look and feel of any room without breaking the bank. Whether you're shopping for accent furniture or new paintings or bedroom sets, take a look at some easy and affordable room decorating ideas.
1. Shop for Accent Furniture Pieces
A brand new living room suit or bedroom set isn't always affordable or budget friendly; however, adding in accent furniture pieces can revamp your old or used sofas, beds, or storage furniture. When looking for the perfect accent furniture, think about quality over quantity. An accent piece can be moved from room to room or be used in numerous home decor themes.
For a subtle look, a simple storage bench can add additional space and seating in your home while still changing the look of your room. If you love more quirky styles, a patterned or colorful armchair or accent chair can create a fun and exciting ambiance in your living space. For more affordable pieces, look for stores offering financing or credit options to get discounts on new purchases.
2. Customize Canvas Prints
Creating a new looking in your room can be as easy as hanging wall art. If your home has bare walls or simple decor, adding canvas prints can completely change the look and feel of the room. For seating areas or living spaces, adding canvas prints of your personal photos can take the place of outdated frames.
Similarly, if you prefer creating art yourself, canvases are affordable and easy to obtain to create your own artwork for your bedroom or bathroom walls. For families, letting your children color, paint, or decorate their own canvases can add unique touches to family rooms, playrooms, or office spaces.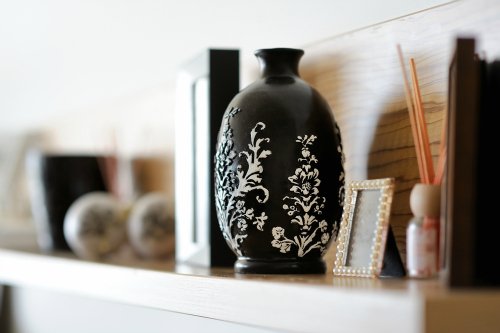 3. Create an Oddities Shelf
Storage units are perfect for adding extra space in small rooms or apartments. If you're struggling to find somewhere to put everything, don't leave your room cluttered. Investing in a storage shelf not only gives you space for baskets to place your extra belongings, but also allows you more room for unique oddities.
Look at your local home decor stores or discounts stores for fun pieces to place on your shelving. Initial letters, what-nots, framed pictures, and small decorative figurines are perfect for adding character to your room while still keeping your furniture pieces functional and organized.
4. Install New Lighting
From side table lamps to overhead chandeliers, changing the lighting in your home can not only create a new ambiance and look for your old pieces, but it can add additional color and character to any room. Look for lamps and jar lighting that adds additional color into your home.
From patterned pieces to bright and eye-catching looks, installing new lighting can make your room pop. If your home has more subdued or monotone coloring, installing overhead lighting with more intricate details can bring the focal point away from older pieces without overshadowing your already styled decor.  You can take a look at Neon Mama for fun neon lighting in your room.
5. Create an Accent Wall
When you're in a pinch and want to make over the look of any room, creating an accent wall is the perfect way to change up your home decor. Choose a complimentary color that not only matches your room décor but also adds in an extra touch of color or style. For drab monocolored rooms, a beautiful deep blue or green can take an ordinary space and make it look brand new.
Choose a bright or cheerful color for workspaces and a serene light blue for baths. If painting isn't an option, add a fabric or create a picture collage to bring a new look to your space. Opt for colorful frames or paintings to show a piece of personality while still keeping your space free from clutter.