This shop has been compensated by Collective Bias and its Advertiser. All thoughts and opinions are mine and mine alone and should not be construed as medical advice. #24HourEsterC #CollectiveBias
We had a sensational October, weather-wise. Here in the south, the fall season is usually a bit unpredictable. It's either really hot or really cold, and there's no in between. You can be wearing shorts and a tank top one day, and then the next week you're breaking out a sweater and a wool coat. Seriously! For the entire month of October, Noah wore shorts every day and only had to break out a light jacket last week, and then BAM! On Halloween night the low was 33 degrees! Eek! With this drastic change in weather, my first concern is immune support and staying well.
As a mom, blogger, and Etsy shop owner, I can't afford to be at standstill, so I'm taking extra steps to help myself, in particular, stay healthy. And if you're in the same position I am in, you probably want to do the same. I recommend a multi-vitamin for general health & well-being, and I like to make sure I get a supplement for immune health. The one I am taking is Ester-C.
Ester-C is located in the vitamin and supplement aisle of your local Wal-mart. You can find Ester-C in 500mg 90ct packages or 1000mg 120ct packages. Personally I like the 500mg. Adults take just 2 of them per day (preferably with a meal) for 24 hour immune support. Ester-C is also a good pill of choice for immune support, because it's gentle on the stomach, and it has metabolites which help your body to absorb and retain vitamin C.
Right now you can also save $1 with this coupon while supplies last.
Other precautions you can take to maintain wellness include, drinking plenty of fluids, maintaining a well-balanced diet and exercise routine, getting plenty of rest. Getting a flu shot is also a plus.
You should also do what you can to avoid spreading germs. Wash your hands regularly and avoid touching your face. (Keeping hand sanitizer or wipes with you is also a good idea for when you can't wash your hands.) Clean and disinfect your home regularly, including keeping a clean kitchen, bathroom, and bedding. Also, change out your air filters regularly to prevent allergens in the air.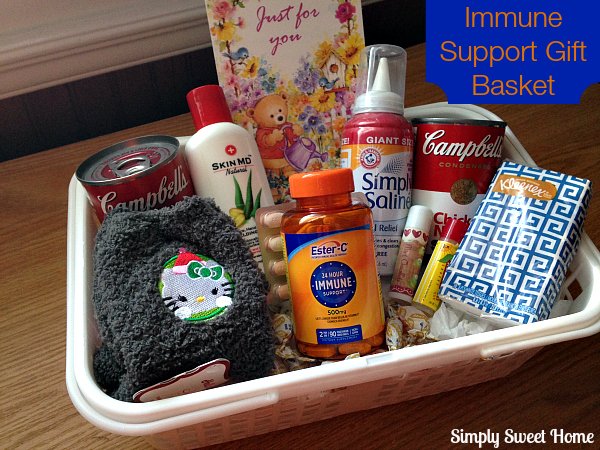 If you have a parent, friend, or loved one that your care for, you can show them you care by giving them an "Immune Support Gift Basket." The one I made here includes a bottle of Ester-C, a get well card, chicken noodle soup, tissue, saline spray, coucg drops, lip balm, hand lotion, and a pair of cozy socks!