I am a member of the Collective Bias® Social Fabric® Community. This shop has been compensated as part of a social shopper amplification for Collective Bias and its advertiser. #goodlifepet #CollectiveBias
If you've been a regular visitor to my blog, then you know I love my kitty cats! For the past 6 years, I've been mommy to 3 cats: Rebel, Sugar, and Dixie. Sadly we lost Dixie Belle last month (RIP Sweet Dixie Belle). Because of the unexpected loss of Dixie, I am even more keen on keeping my other two baby's healthy, so I can have them around for a long time. Let me tell you all about my babies.
Six years ago, I adopted Rebel and Dixie. They were brother and sister. This was the first time I'd ever had "inside cats," so at the time I had no idea how attached I get to them. I very quickly fell in love them, and since I had no children of my own at the time, so Rebel and Dixie were like my babies. When they were kittens, I couldn't sit down on the couch for more than a minute without one or both of them sitting in my lap. And since then they could be found pretty much anywhere I was. If I'm working at my desk, I can pretty much always count on having an office assistant cat by my side, and if I'm sitting on couch or going to sleep, I don't have to search far to find a foot warmer cat or snuggle cat.
A little over 2 years ago, I added Sugar Belle to my family. She was a stray cat that showed up my dad's house. He started feeding her and decided to keep her, and then I offered to take her to the vet to get fixed, so my dad wouldn't have to deal with future kittens. I took her for the surgery and then let her recover at my house, and I just sort of got attached to her. The other cats weren't too fond of her at first, but they eventually decided to tolerate her. And now, with Dixie gone, I'm glad Rebel has someone else to play with.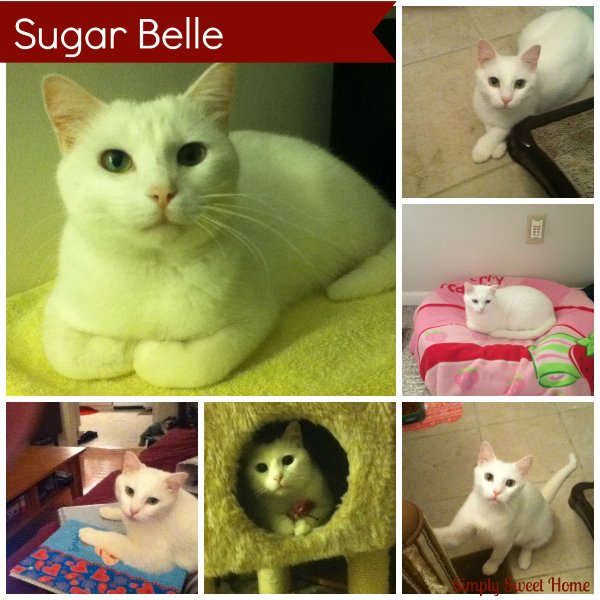 If you are like me, you also want you kitties to be around for a long time. Here are 6 tips to help your cat live the "good life."
1. Schedule your cat for a yearly check up (especially if they are 5 years old and older), and keep their vaccines up to date.
2. Groom your cat regularly. I use a brush and lint roller to remove shedding fur, and I also use a waterless shampoo on occasion to groom my cats. If it's financially feasible you can also take your cat to a professional groomer.
3. Keep your cat's food and water bowls clean. Change out their wall bowl every day and wash bowls out regularly. Keep food and water in a safe place to prevent contamination and clean the floor in these areas regularly. Also, keep food and water bowls in a location that is not right beside the litter box.
4. Keep litterbox and sleep areas clean. Scoop out the litter box every day, change out the litter regularly, and clean the litter box with soap and water when necessary. Also, change out the blankets and bedding in your cats sleeping areas regularly. And keep cat beds and furniture clean.
5. Give your cats monthly medication to prevent fleas, ticks, and heartworms.
6. Serve your cat a nutritious diet of GOODLIFE™ cat food.
I recently visited my local Walmart and picked up a bag of GOODLIFE™ cat food:
The Simply Sweet Home cats are also excited to try new cat products, especially cat food! Rebel and Sugar selected the Indoor Formula. Here's a little information about it:
Natural fiber helps control hairballs
Real chicken is the #1 ingredient
Antioxidant blend for a strong immune system
No corn, No soy, No wheat recipe
Here they are checking out the food for the first time: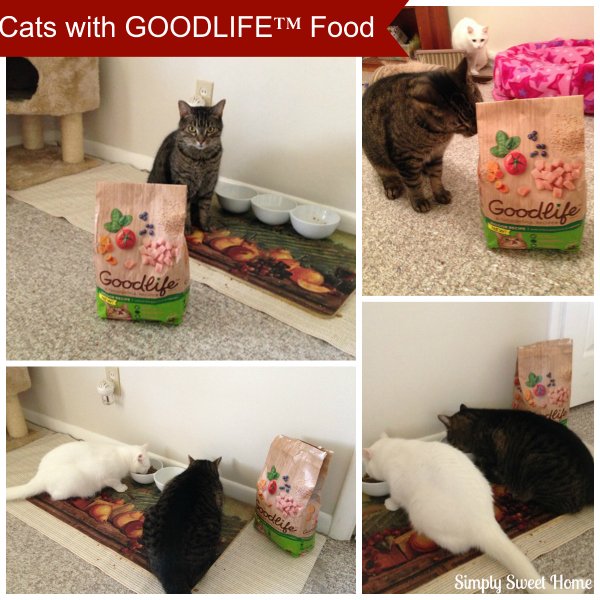 To demonstrate their love for Goodlife cat food, Rebel and Sugar also decided to make a video:
.
Rebel and Sugar would love for your cats to have the chance to try GOODLIFE™. You can purchase it at your local Walmart store and get $1 off by visiting the GOODLIFE™ website and printing out your free coupon.